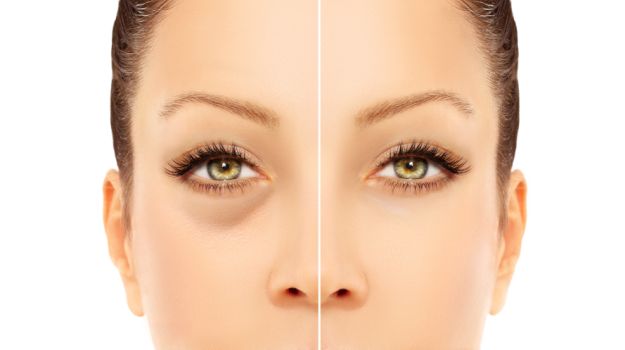 13
One of the most annoying things that can happen to you is having dark under eye circles on an otherwise flawless face. No matter how good your skin is or how sharp your features are, under eye circles spoils the beauty of your face. Let us look at why they happen and what can be done to get rid of them.
Causes of Dark Under Eye Circles
The skin around the eyes is very thin and fragile. In fact, it is about 4 times thinner than the skin on other parts of the face. Dark circles are a result of a congestion of oxygen deprived blood capillaries that show through the skin surface.
Dark circles can also be caused by thinning of the membrane between the skin of eyelids and subcutaneous fat. As we age, this membrane becomes thinner and thinner and subsequently the skin color also changes.
Here are some other potential causes of development of dark circles.
Stress, sleep deprivation and excessive fatigue
Excessive consumption of alcohol
Spending a long time in front of computer screens
Lack of moisture in the skin
Poor diet and lifestyle habits
Treatment of Dark Under Eye Circles
There are a variety of skin care products available in the market that caters to the delicate eye area and helps to soothe the skin there. These eye care products contain special ingredients that hydrate the skin around the eyes and provide them with proper skin nourishment. They help with many skin concerns like dark under eye circles, puffiness around the eyes and crow\'s feet (fine lines that appear on the sides of the eyes).
Product Suggestions
Kinerase Under Eye Rescue Cream
It improves the appearance of the under eye area by reducing puffiness, dark circles, fine lines and wrinkles. The cream also moisturizes and brightens the skin.
iS Clinical Eye Complex
It soothes the skin under eyes and brightens the complexion. It improves the under eye dark circles and reduces puffiness at the same time hydrating and protecting against free radicals.
Night Eye Cream
It improves the elasticity of the skin and makes it firmer and more younger looking. The best time to use this cream is at night when the body repairs naturally. It reduces the appearance of fine lines and wrinkles and replenishes the lost elastin and collagen fibers on the body.